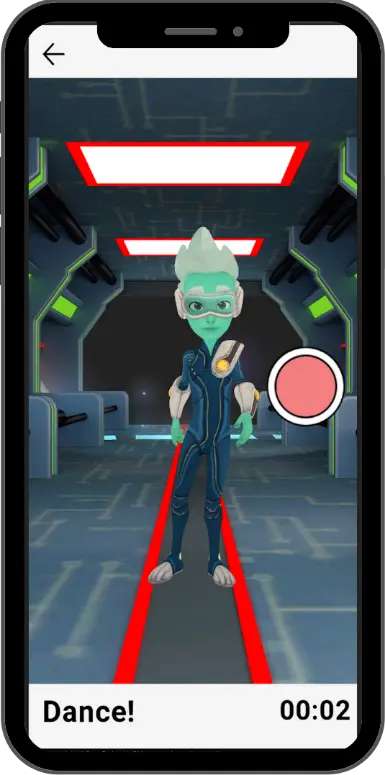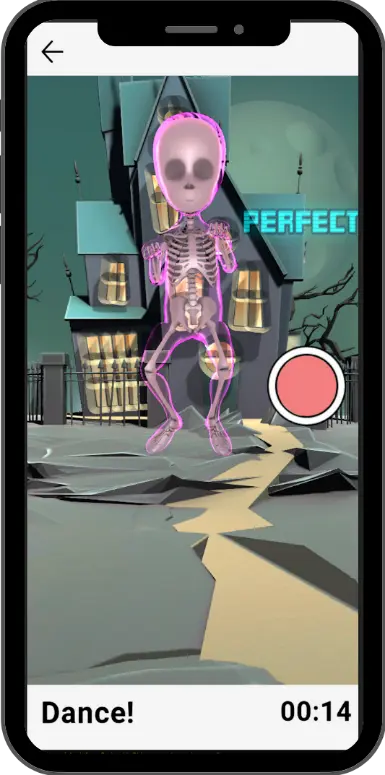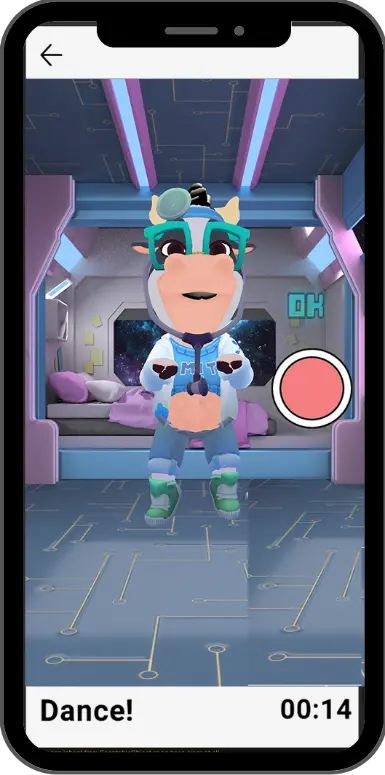 Get Moving and Get Rewarded!
Four characters to dance with
Each dance records your child's:

Stability
Symmetry
Synchrony
Balance & more

Based on the results of their movements, users will receive:

Personalized, prescribed dance recommendations

View your child's results in real time.
All dances will improve your child's mental strength, cognitive resiliency, and help manage and control symptoms of anxiety and depression.
AI & Motion Capture
Artificial Intelligence & Motion Capture help us personalize therapeutic game play & track its effectiveness.
Entertainment
Our assets keep kids engaged in their therapies and help keep their progress on track.

Mobile
Available on any iOS device. Coming soon to Android.
Yes! This app is developed for everybody
Through previous studies, we've found that our movement games helped children with behavioral disabilities become more engaged than with traditional forms of therapy, leading to neurochemical changes, improved attention span, memory and multitasking.
Absolutely! Dr. MOOVES A&D is designed to help everybody – regardless of age, size, mobility, or accessibility. Parents can try it out right alongside their children!
Dr. MOOVES A&D is available FREE, and can be downloaded from the Apple Store after making an appointment to see Dr. MOOVES!
When creating a profile, you'll be prompted at the bottom of the page to enter a therapist's email address.
Results are sent to you via the parent/guardian's email. Results are split into 3 tiers of Body Domain and Improvement Potential. Each tier represents the chance for improvement, from greatest to least. You'll also find a recommended dance to try next.
Dr. MOOVES A&D is a therapeutic DTx to treat symptoms of Anxiety & Depression that will engage and entertain patients more than traditional forms of at-home therapy. The posing improves cognition, leading to better A&D outcomes.
How do I tell my patient to use Dr. MOOVES A&D App? Advise your patients or their parents/legal guardians to make an appointment with Dr. MOOVES. Once they set up the account, have them enter your email to send you the data from each session.
You can! All information regarding billing codes, how to bill, and related details can be found on our website, or THIS LINK.
Didn't find your answer?
Contact us
Partnerships
We are currently working with leaders in the healthcare and entertainment spaces to make our interface even more engaging.
Take a look at what our clients say about us
"Great for mental health!"
Victor Talbot
CMO